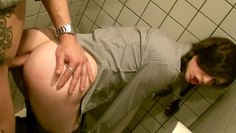 yuvutu
Lounging around the house, naked, waiting for you to come home. I lie back on the couch and take a nap.

Waking when I feel something warm and wet on my cock. I lay there enjoying a pleasingly wet blow job. My cock pulsing, long and hard, feeling so good. My head back, eyes closed, savoring every moment.

I reach down and rest my hand on your head. Taking hold of your ponytail, my hand moves with your bobbing head. At times urging you to go deeper, feeling you gag some on my big cock. I groan, enjoying your struggles.

I start fucking your face and forcing into your throat, feeling you struggle more and more. My cock head hitting the back of your throat, forcing inward as you struggle more. Your hands slapping at my thighs and stomach.

I finally look down and am shocked when I see, not you, but our neighbor's 18 year old daughter Keri. Her pouty lips stretched tightly around my thick shaft. I continue fucking her pretty face, easing up on her some, but still using her mouth.

I look into her teary eyes asking, "You like sucking my cock you little slut?"

She blinks and nods as best she can. I lift her off my cock by her hair, strings of spit and pre-cum connecting her mouth to my cock.

"Did you come here to suck my cock little girl?"

She shakes her head. She explains that she came to talk to you and found me asleep and naked. She saw my cock and couldn't stop herself. She started out by touching it, stroking it as it hardened and finally sucking it.

I resume fucking her mouth. Forcing her deeper and deeper. She struggles, gagging violently at times, but never stopping.

I pull her off again, ordering her to undress. She stands, shaking visibly as she strips. Taking off her bikini top and then sliding down her tiny denim cutoffs.

I lick my lips as I look at her tender young body. I motion her closer. I lie back on the couch and guide her over me into a 69 position. I look up at her tight pink pussy and its sparse covering of blonde pubic hair. I pull her hips down and proceed to lick her young cunt. Lapping at her wet slit. Slowly working my tongue into her soft folds. Making her moan and groan as I settle into a rhythm.

She starts sucking my cock again. She gags herself repeatedly as she sucks me deep, eager to please me, as I plunge my tongue deep into her tight teen twat. Her pussy tasting almost as sweet as yours.

I spread her wider and yet her cunt remains closed snugly. Tongue fucking her soaked cunt, my face getting wetter. I finally nibble her hard clit and she cums almost instantly. Sitting straight up and howling, her cunt gushing as I suck and slurp. I drink her juices as she comes down. She rolls off me as she shakes with pleasure.

I turn her so she is on top of me, facing me. She kisses me and thanks me for giving her the first orgasm that she didn't have to give herself. She moves against me, the hard nipples of her firm young B-cup tits dragging against my chest. Her soft mound humping against my stomach, my hard cock clasped between her thighs. She giggles as she moves about. She presses her hands into my chest and sits up as she drags her pussy against my abs, sliding down far enough for my cock to brush her ass before sliding upward again.

She looks down at me and asks, "You ever fucked a girl as young as me?"

I lie and shake my head no.

She grins wickedly, asking, "Like to?"

I nod slowly and her smile gets incredibly big. She leans down and kisses me. She breaks the kiss and looks into my eyes, her face becoming serious.

"I've never had a real cock before," she says. "Only my vibrator and its nowhere near the size of you."

I nod in acknowledgement.

"Please be gentle," she says.

"I will."

I reach down and lay my cock against my stomach, instructing her to hump her wet cunt against my length. She obeys and we both moan with pleasure. She does this for a long while and even cums, making my cock wet with her juices. She lays on me and kisses me some more. After a few minutes I slide from beneath her.

I ask her, "How do you want to take your first cock?"

"I want you to be on top," she says, her chest flushed.

I lay her back on the couch and kneel before her. I open her legs to the sides and move them toward her head. Her tight pussy lips parting ever so slightly. I let my cock rub against her opening.

Sensing how tight she is I proceed to use my fingers on her. Easing one into her fresh, virgin cunt. Stretching her some, I add a second. I finger fuck her steadily, opening her up. Her cunt is absolutely soaked and she begs for me to make her cum. She cums hard as I use a third finger to ready her for my cock. She humps my hand through her orgasm and lies gasping.

I slip my digits out and press my cock head against her opening. She tenses as I begin to penetrate her. I tell her to relax and she complies. I ease into her slowly, working more of my cock in and out. After several minutes of this slow entry my cock head touches her cervix, her hymen long since gone from her use of a vibrator.

I smile down at her, "I'm all the way in."

She tries to smile but her discomfort is evident, her inexperienced pussy never having been opened like this before. I let her adjust and after a few moments she tells me to go ahead. I fuck my length in and out of her tightness. She moans and gasps as my cock saws in and out.

She looks up and growls, "Fuck me harder."

I grin and fulfill her request, pumping my cock in and out harder, faster. Her young cunt making deliciously wet sounds on my cock. I let go of her legs and she wraps them around my waist. She humps herself into my thrusts, the pace of our fucking building. Faster. Harder.

Grunts and groans filling the room. She squeals and moans louder crying out as she cums violently, thrashing on the couch. My cock throbbing hard as her pussy squeezes it tightly.

I move to pull out but her legs are locked behind my back and I erupt inside her. My hot cum splattering inside her spasming cunt. I collapse onto her, gasping and groaning, my cock locked inside her tight pussy.

She finally relaxes and I slide my semi-erect cock from her steaming cunt, our combined cum slowly leaking out. I fall back onto the couch beside her.